* Новости Индии
* Википедия об Индии
* Погода в Индии
* Выучить хинди
Уроки хинди
Музыка кино
Радио
Translation - Under Construction

India with a land mass of about 3.3 million sq. Kms. and a population of over 900 million is the 7th largest and the 2nd most populous country in the world. The people of India have always cherished the long standing friendly relationship with Russia. India and Russia have remained together for several centuries in the establishment of international peace and development of science and technology. The relationship between India and Russia is based on mutual friendship and respect for each other. This long standing and eternal relationship has to be made more broad based through people to people contact. The people of Russia travelling to India and the Indians travelling to Russia need to be increased manifold to improve mutual understanding and to establish a human bond between the two countries. 

The people of India are known for their traditions of hospitality to foreigners. They have varied life styles, cultural heritage and colourful fairs and festivals which make India a unique tourist destination.

India is also a country of diverse tourist attractions. It offers enormous diversity in topography, natural resources and climate. It is also a fascinating kaleidoscope of races, languages, religions, customs and traditions. India is thus a tourist destination for all travellers in all seasons.

India abounds in attractive and well-preserved historical sites, ancient monuments of architectural grandeur and not-so-ancient mosques/durgahs, churches and places of worship of other diverse faiths.

Taj Mahal at Agra with a romantic story behind it is known the world over for its treasure of architecture. Besides Taj Mahal, Agra Fort, Sikandra, Rambagh and the Imperial ruins of the Mughal city at Fatehpur Sikri are some of the finest examples of architecture combining both Hindu and Muslim elements.

Ajanta and Ellora Cave temples with spectacular cave paintings contain some of the worldТs most exquisite sculpture. Some of the other places of cultural interest are the Elephanta Caves in Maharashtra , The Konark Sun Temple and the Jagannath Temple in Orissa, the Khajuraho temples in Madhya Pradesh, Golden temple at Amritsar in Punjab, Temples of Mamallapuram and Kanchipuram in Tamil Nadu, monuments in Karnatka etc.

India is also known for some of its fine beaches like Goa, Mamallapuram, Kovalam, Pondicherry, Puri-Konark etc. In addition island tourism has been developed at Andaman/Nicobar and Lakshadweep Islands.

All across the country are wildlife sanctuaries whose areas extend over several thousands of square kilometres, where wildlife can be observed in their natural surroundings. Each sanctuary supports several species of wildlife, being well known for one particular species. In some cases, there are rare or even endangered species. Thus, the Gir Forest in Gujarat is the only surviving home of the Asian lion, Manas and Kaziranga in Assam have a significant population of one horned rhinos, Periyar in Kerela is best known for wild elephant viewing. Thamin deer at Keibul Lamjao National Park in Manipur, Hangul or Kashmir stag at Dachigam, Srinagar , and blackbuck at Velavadhar in Gujarat are the only homes of these species.

IndiaТs vast geographical diversity provides a wealth of outdoors adventure. All tastes are catered for - from the gentlest to the fast-paced, and there is something for every level of competence - the beginner and the expert. Not only does India have an immense variety of outdoor thrills, but prices here are extremely low by international standards.

The major adventure tourism activities in India are trekking and skiing in Himalayas, river running in Gangas, water skiing in Goa, Trout fishing in Himachal Pradesh and Uttar Pradesh, Heliskiing in Himachal Pradesh, wind surfing, scuba diving and yatching in Andamans & Lakshadweep islands etc.

India is a land of fairs and festivals with atleast one fair in each day of the year. These fairs and festivals add colour to the social life of Indian people. Some of the important fairs and festivals are Pushkar fair in Rajasthan, Crafts Mela at Surajkund, Holi in North India, Pongal in Tamilnadu, Onam in Kerela, Baisaki in Punjab, Bihu in Assam, Dance festivals at Khajuraho and Mamallapuram etc.

India has a rich cultural heritage with several forms of art and handicrafts. Bharatnatyam, Odissi, Kathakali, Kuchipudi, Mohiniattam are some of the most popular forms of classical dances which have their origins in various States across the country. Every dance form has a precise vocabulary of emotions - love, yearning, sorrow etc. - and these are displayed by gestures that involve the body, arms, fingers face and eyes.

India has a treasure trove of handicrafts for any discerning shopper, in truly remarkable variety of styles and prices. In India, the shopping experience runs the gamut of multi-storeyed, air-conditioned stores selling a hand-picked assortment of crafts from every corner of the country, to whole streets of shops selling speciality goods, in local fairs, where stalls, set up overnight, stock a variety of exotica. Infact, India is a unique shopping plaza for the people of Russia.

Over the years, India has developed world standard accommodation infrastructure for entertaining the visitors. There are about 60,000 classified hotel rooms in India and about 35,000 rooms are under construction. These hotel rooms scattered in various cities are of varying price range. Some of the major hotel chains in India are the Oberois, Taj Group of Hotels, Welcome Group of Hotels and India Tourism Development Corporation Hotels.

India is thus waiting to receive the people of Russia in large numbers to experience, the warmth of Indian hospitality. 

RSS-Лента
---
Гость

Группа: Гости


Группа "Православие в Индии"
Валюта
Календарь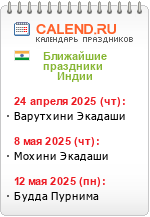 ---
« Ноябрь 2019 »
Пн
Вт
Ср
Чт
Пт
Сб
Вс
1
2
3
4
5
6
7
8
9
10
11
12
13
14
15
16
17
18
19
20
21
22
23
24
25
26
27
28
29
30
Код кнопки сайта
Статистика
Статистика сайта:

Коментариев: 302
Сообщений: 6/18
Фото: 339
Новостей: 1150
Файлов: 11
Статей: 9



Счетчики статистики: